Copies and More
P.O. Box 673
37 Main St.
Wells River, VT 05081
(802) 757-8105
glenda@copiesvt.com
www.copiesvt.com
We are a small town specialty store that is able to meet your printing needs. We work one on one with each customer to give you what you deserve—the best finished product.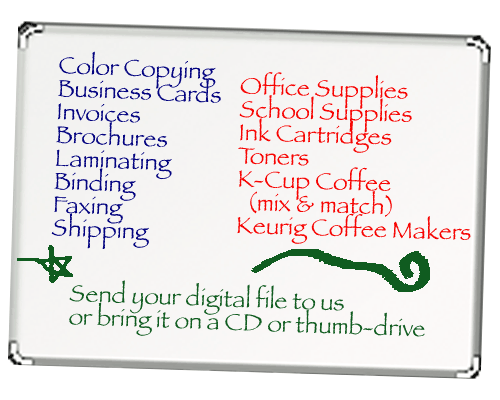 We are proud to offer prints from Ian Clark's photographs. Click here to learn more about that. Ian is well-known for both his local photography and his transportation photos – his specialty. We can print anything of Ian's that you like, in a variety of formats.You can also browse Ian's photos on his website,uppervalleyphotos.com.
We offer a full line of services—from business card design to printing color photos, postcards to promotional products, all with hometown customer service. If quality and customization are important to you, you'll appreciate being able to work with Glenda, Paula or Hillary to get your project completed.
We offer copying and printing for architectural and engineering drawings, as well as wide format printing for full-color banners and posters, up to 36″ wide and as long as you need.  We also offer scanning capabilities for large prints up to 36″ wide.
We take pride in our quality of large service options that we are able to offer with the small town convenience. It does not matter if you have a small or large job, we will efficiently get it completed for you as quickly as possible. We take pride in knowing that we can give you an affordable solution for small businesses, teachers, and local organizations.